ALTUNIAN, Genrykh Ovanesovych
329918.04.2005
(b. 24.11.1933, Tbilisi – d. 30.06.2005, Kharkiv).
Human rights activist, member of the Initiative Group for the Defence of Human Rights in the USSR, twice a political prisoner
Genrykh Altunian was born in Tbilisi, the son of a professional military man. In 1944 the family moved to Kharkiv where in 1951 Altunian entered the Kharkiv Higher Military Aviation College, graduating as a radio engineer. After being sent to work for 4 years in the town of Uzyn in the Kyiv region, Altunian returned to Kharkiv where he worked as a teacher, while doing his PhD in the Military College from which he had graduated.
The meeting P. Grygorenko with friends in Kharkov in Nedaboras apartment. L to R: А.Levin, G.Altunyan, P.Grygorenko, V.Nedobora, V.Ponomaryov. Kharkiv, 1974
By 1968 Altunian had attained the rank of Major, was the Party organizer for the faculty department and was preparing to defend his PhD thesis. He had also met Pyotr Yakir, Petro GRIGORENKO, Leonid PLYUSHCH, and A. Kosterin, who was the first to have raised the issue of the repressed nations of the USSR.
In August 1968, on the grounds of these links as well as because of his refusal to denounce the activity of A. Sakharov and P. GRIGORENKO, Altunian was expelled from the Party and dismissed from the military. The Order issued by the Chief Commander of Rocket Forces, Major Krylov, expressly states: "Engineer Major Altunian visited the flats of the son of Commandeer Yakir[1] and former general Grigorenko, and took away with him a revisionist letter from Academician Sakharov and by so doing brought shame upon the high rank of officer of the Soviet Army". In seeking to be reinstated in the Party, Altunian sent applications to various bodies, going as high as the Central Committee of the CPSU, however the commission on Party control rejected his petition. Altunian recorded these "conversations" in detail, and handed them over to be published in samizdat.
In May 1969, Altunian signed an open letter to the public in defence of P. GRIGORENKO who had recently been arrested in Tashkent, and in support of the Crimean Tatars. At the same time he joined the "Initiative Group for the Defence of Human Rights in the USSR", which had 14 members. As part of the latter, he had time, however, only to write one letter, on 20 May 1969, to the UN Human Rights Committee regarding the flagrant violations of human rights in the USSR
---
Meeting P. Grygorenko with friends in Kharkov in Nedaboras apartment. L to R Sitting: A.Kalynovsky, R.Kaplan, V.Ponomaryov. Standing: S.Podolsky, А.Levin, G.Altunyan, P.Grygorenko, V.Nedobora. Kharkiv, 1974
In June 1969 he was one of ten well-known human rights activists with communist convictions who sent a letter to the International Conference of Communist and Workers' Parties protesting at the Soviet intervention in Czechoslovakia, and he also signed a letter in support of Ivan Yakhymovych[2] .
70'th jubilee of Petro Grygorenko, Moscow, 1977. L to R: Altunyan, Petro Grygorenko, Zinaida Grygorenko, Natalia Velikanova, Andriy Sakharov
Altunian was arrested on 11 July 1969 and charged under Article 62 Part 1 of the Criminal Code of the UkrSSR "Anti-Soviet agitation and propaganda aimed at undermining the Soviet regime". However, after a lawyer from Moscow arrived to find out the details of the case, the KGB was forced to change the charge to Article 187-1 ("Dissemination of patently false statements defaming the Soviet political and social system" ; analogous to Article 190-1 of the Criminal Code of RSFSR).
On 26 November 1969 he was sentenced by the Kharkiv Regional Court to 3 years general regime labour camp. In violation of penal legislation he was sent to a camp outside the territory of Ukraine, to the station N. Ingash, Inst. PO Box 288/1 "A", Kansky district of the Krasnoyarsk area.
Following his release on 10 July 1972 he returned to Kharkiv, where he was to approach 22 organizations before finally managing to find work as a mechanic in the Kharkiv concern "Kinotekhprom".
Altunyans family
He travelled a great deal around the region, and continued to read and distribute samizdat material, as well as signing a number of letters together with well-known human rights activists from Moscow and Kyiv, including letters defending A. Sakharov and L. PLYUSHCH.
On 24 February 1978, he was taken to the Kharkiv KGB where he was issued with a warning in accordance with the Decree of the Presidium of the Supreme Soviet of the USSR of 25 December 1972. Altunian made records of the "conversations" in the KGB, as well as the subsequent "preventive education" discussion at work and passed these on to be published in samizdat, this being later used against him.
During a search carried out on 30 May 1980, Solzhenitsyn's "GULAG Archipelago" and a lot of other ideologically "hostile" literature was removed. They even wanted to confiscate his Bible.
The book of A.Solzhenitsyn Arhipelag GULAG in the cover of reading-book. It was confiscated in Altunyans apartment through the house-check.
On 16 December 1980 Altunian was again arrested, and on 31 March 1981 sentenced by the Kharkiv Regional Court under Article 62 Part 1 of the Criminal Code of the UkrSSR to 7 years deprivation of liberty in harsh regime labour camps and 5 years exile. In 1981, just as in 1969, he rejected all charges. On 7 April the Moscow Helsinki Group (MHG) issued Document No. 164 "On the trial of Genrykh Altunian", which stated:
"From the very text of the sentence it is absolutely clear that Altunian committed no crime whatsoever and that the harsh punishment is solely for his free thinking and freely expressing his views and for his book. In his final words Altunian said, turning to the judges and the prosecutor: "Today I am being tried on the basis of a denunciation. Tomorrow it will be the turn of my friends, and the day after tomorrow, your turn. This is an extremely dangerous precedent… It is effectively a trial of thought and books. One may only fight books with other books, not with truncheons and prison bars".
His sentence was served in one of the Perm political labour camps, VS-389/36, in Kutchino, Chusovoi district of the Perm oblast,.
On 4 November 1982 , for having taken active part in the camp struggle against the administration, he was sentenced to three years in the Chistopolsk prison.
In 1986, under pressure from the West, the "Gorbachev amnesty campaign" began, when the authorities began releasing political prisoners. In December that year, Andrei Sakharov made public a list of political prisoners requiring immediate release, this including Altunian. However, to "keep face", the authorities demanded that prisoners signed statements asking to be pardoned. Altunian was brought to Kharkiv at the beginning of 1987 where KGB officers tried to get him to make such an appeal for a pardon. In response, Altunian wrote a statement demanding that his case be rescinded as unlawful. Having failed to extract a request to be pardoned, he was nonetheless released on 9 March 1987.
After his release Altunian played an active role in public life, in creating the Kharkiv chapter of "Memorial", and then the Popular Movement of Ukraine (RUKH) , and worked for the journal "Glasnost". In 1990, Altunian was totally rehabilitated with both cases being quashed.
From 1990 to 1994 he was State Deputy (MP) of Ukraine, and member of the Permanent Commission of the Verkhovna Rada on Issues of Defence and Security, and Deputy Chairperson of the Commission on Pardons under the Presidential Administration. He played a major role in having the Law of Ukraine "On the rehabilitation of victims of political repression" passed. After the August 1991 coup, he became a member of the Security Council. He was also involved in the process of reforming the old KGB, into the new Security Service of Ukraine (SBU). He was a member of the Central Board of the Popular Movement of Ukraine (RUKH), and Chairperson of the Kharkiv regional branch of RUKH. From 1997 he was Co-Chairperson of the Kharkiv chapter of "Memorial", the Coordinator of the "Ukrainian-American Human Rights Bureau" for the Kharkiv region, and the Chairperson of the Kharkiv Association "Ukraine – Armenia".
He was the author of the books "Prozrenye" ["Insight"], "Petro Grygoryovych Grigorenko", "Yak ya stav "osoblivo nebeznechnym" ["How I became "particularly dangerous"] and of memoirs under the title "Tsena svobody" ["The Price of freedom"].
In one of his last interviews for the media group "Objektiv", on his seventieth birthday, Genrykh Altunian said:
"I fear nothing. I am seventy years old, as they say, "over the hill". I have seen it all. I do not except that I will experience anything worse than sitting day after day in the isolation cell of Chystopolsk prison. I am afraid for the country I live in and for the future of those dear to me. It was Bruno Yasensky who called on us to fear those who don't care. Please God that our people will not become indifferent."
Genrykh Altunian became seriously ill in May 2005, and was finally moved from Kharkiv Hospital to a clinic in Israel where he died on 30 June 2005.
The very many messages of condolence to his wife and two children included a letter from the President of Ukraine, and from the Mejlis of the Crimean Tatar People.
---
[1] Pyotr Yakir (1923 – 1982) historian, human rights activist and former political prisoner, was the son of a Commander of the Red Army, shot in 1937 (translator's note).
[2] Ivan Yakhymovych was a teacher and head of a collective farm near Yurmala in Latvia, who was arrested after writing a letter to the Central Committee of the CPSU protesting at the political trials of Yury Galanskov and Aleksandr Ginsburg. He was later forcibly treated in a psychiatric hospital. (translator's note)
Bibliography:
I.
G. Altunian. Prozrenye. Kharkiv: 1994.— 60 pages.
G. Altunian. Petro Grygoryovych Grigorenko. Kharkiv: РА—«Karavella», 1997.— 21 pages.
G. Altunian. Yak ya stav "osoblivo nebeznechnym.— Ukraina, 1990, № 47.— pp. 17-19.
G. Altunian. Tsena svobody: Vospominanya dissidenta [The Price of Freedom: Memories of a Dissident] / Kharkiv: "Folio", 2000. – 350 pages
II.
'Khronika tekushchykh sobytiy' "Chronicle of Current Events" [CCE]. — Amsterdam: The Herzen Foundation, 1979, No. 1-15.— pp. 96; 150, 187, 193,; 212-213, 247, 310-313, 331, 335, 368, 406-407.
CCE.— New York: Khronika, 1981, No. 57.— pp. 59, 60; No. 60.— pp. 62, 63; No. 61.— pp. 37, 39, 40, 83.
CCE.— New York: Khronika, 1982, No. 62.— pp. 60--65, 132, 166, 170-171.
CCE.— New York: Khronika, 1983, No.. 63.— pp. 81,176-183.
Vesti iz SSSR [News from the USSR] . V. 1. 1978 – 1981. - Munich : Prava cheloveka — 1980, 23/24-3.
Vesti iz SSSR. V. 2. 1982-1984.— Мюнхен: Munich : Prava cheloveka.— 1982, 7-2, 19-8, 20-20; 1983, 1-13, 6-27; 1984, 1/2-20.
Vesti iz SSSR V. 4. 1987-1988.— Munich : Prava cheloveka.— 1987, 3-1; 1988, 1/2-43.
Na sud istoriyi. Sud nad Genrykhom Altunianom [For History to judge. The trial of Genrykh Altunian]. – Paris – New York: Foreign representative office of the Ukrainian Helsinki Group. The First Ukrainian Printing Press, 1984. – 104 pages.
The KHPG archives
S. Karasik
Genrikh Altunyan with his wife Rima
Captain Genrikh Altunyan, beginning of the 60's
Сertificate about release of G.Altunyan, 1972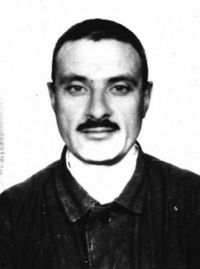 G.Altunyan in concentration camp - first term, Ingash, 1970
ALTUNIAN Genrikh
During the first term. Khoruzovka, Krasnoyarsk kray, special settlement, 1972
During the first term. Khoruzovka, Krasnoyarsk kray, special settlement, 1972
The cover of the 4th book criminal case against G.Altunyan
First photo in prison, 1981
First photo in prison, 1981
Сertificate about release of G.Altunyan, 1987
Genrikh Altunyan with his wife Rima, Kharkiv, 1987
It may be interesting for you
Dissidents / Ukrainian National Movement
Dissidents / Democratic Movement
Dissidents / Ukrainian National Movement
Dissidents / Ukrainian National Movement
Dissidents / Democratic Movement
Dissidents / Ukrainian National Movement
Dissidents / Ukrainian National Movement
Dissidents / Ukrainian National Movement
Dissidents / Democratic Movement
Dissidents / Democratic Movement
Dissidents / Ukrainian National Movement
Dissidents / Democratic Movement
Dissidents / Ukrainian National Movement
Dissidents / Ukrainian National Movement
Dissidents / Democratic Movement
Dissidents / Ukrainian National Movement
Interviews
Interviews
Interviews
Interviews